A BRAND Name "La Femme DC" ®™ is an official registered ® Trademark™ with the United States Office of PATENTS and Inventions in Alexandria, United States of America.
La Femme DC ® ™ Oct.22,2002 Int.Cls.L9,35,38 and 41
United States Patent and Trademark Office Reg.No: (contact attorney DAVID SAFFRAN in McLean, VA)
LA FEMME DC ® "La Femme DC" hbzne I L S F
webmaster programmer Joe at JPKUSMA@YAHOO.com or AKA SALES@the3Dguys.com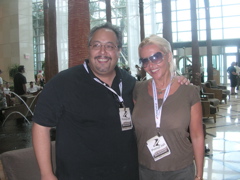 who took care of
www.La Femme DC.com and www.La Femme DC.net since May, 2005. Thank you JOE!ˇ His own website is www.3DGuys.com and he also is a photographer.
WEBMASTER AL from May 2001 to Jan 2004 (my websites went down due to unprecendented circumstances because I was overseas and it was dangerous to keep them up.) www.AWWG.net of Las Vegas.Nevada Albert.
Marketing Consultant: Richard B. Washington,D.C.
Attorney Trademark Law: USA DSafran@nixonpeabody.com (Washington, D.C.)
Initial Designer (2000) : Adult webdesigner Tony DONATO: www.TiarraCorp.com, USA
CREDITS & CONTRACTORS:
Andrew Richards"CANVAS42" of New York City, NY, www.CANVAS42.com
Celebrity and Rock Stars photogrpaher Andrew Richard, creator of the initial images of or La Femme DC.com wbesite.(12-2000)
ANDREW is located in in both New York City and Miami.
---------------------------------------------------------------------------------------------------------------------------------------------
2006:
Photo Shoot with CARLOS BEAMON Washington DC AUg 2006
INTERNEXT EXPO 2006 Hollywood FLORIDA with Karen FISHER of DC DAN LEAL of DC (now in LOS ANGELES and owner of "IMMORTAL PRODUCTIONS" ) and studio from BRAZIL
Gina de PALMA was here too but we did not shoot. We date with BOB Captain BOB (LAS VEGAS).
Charlie BIGGS and URBANO in Las Vegas with Porn Actors Rick Masters and JAY Foxxx,
20-22 APRIL 2006
"GENT" magazine shoot in NJ with Asian Lucy, and AMBER FOXXX for October 2006 Print,
"GENT magazine STUDIO for ken VIVERITO of Long Is. 18 March 2006
LONDON, Soho and MAYFAIR for "Rude BRITANNIA" and "MAYFAIR" magazine
"red Light of LONDON" feb 14-20 2006
w/RICK MASTERS and GUY di SILVA in Charlie BIGGS productions, LAS VEGAS January 2006
AVN Convention and big date with RON JEREMY. XOX WOW!
FEBRUARY 2006 14-22, LONDON
2005:
Gina De PALMA December 2004
PORNODAN December 2005
"GENT"magazine with Amber FOXXX (she is FOXXX on the run columnist), and with James Sincklair and Dick Johnson. Nov 18 2005
October in Las Vegas
GENt Magazine shoot with Tory TYLER fr Print of NOV 2006 GENT magazine. and AUGST 2006
PHILADELPHIA video work FETISHES and FANTASIES GOTHAM
Las Vegas photo shoto with ANDY
Gina de PALMA in MIAMI May 2005
Paige paradise and Claire in BELLISSIME studio in Brooklyn NY May 1 2005
Gina De PALMA 1 May 2005 NYC
BERLIN MARCH 2005
2004:
GINA de PALMA of NYC and Las Vegas shoots in DEC 22 and 26 2004 in Manhattan.
PORNODAN of www.PORNODAN.com XXX
Allie POWELL, Washington DC,New Photogrpaher from Boston
Studio MEL SAL Washington DC,new Photogrpaher from Baltimore
CREDITS for the following Photo studios and national magazines:
DVD (x2) 23 Oct 2004 evening cast
Photo session with Paige PARADISE and Photographer ALLIE of DC, 23 OCT 2004 Morning audition
For Photo and Video Productions to the following companies:
To MISTER MAX XXX$$$$ Hustler affiliate a Big Wheel from Atlantic City 15 OCTOBER 2004 DVD
STUDIO of Mister MAX of Washington DC 15 Oct 2004, adult industry DC
Dwayne of TQ Entertainment.com or www.hotalesecrets.com, new video maker from MD/DC
VIXENS PLAYGROUND.com DVD available
AVAILABLE ON DVD e
October 2002, Photographer (SECRET) Gilles of San Diego,California www.WEBINK.net
DVDDVD
MEL SEE of Washington DC 12 Oct 2004sinc
2004AV
July 2002
DVD on ORAL AMBERBrad Glasier and Chris Filby.
Salvatore Vergone of BELLISSIME, Brooklyn, NY.
DVD In New JERSEY/NYC/PHILADELPHIA, FETISH Pie Orgies
Philadelphia Photo Shot in South Philly FEB 2003
CHRIS FILBY of Washington DC, many many times.last photo update: Mar 2003, NOV 2001,2000,1999
SAN DIEGO
Eric from NYC at <XPURTEASE@aol.com> Fetish and BDSM productions New Jersey PHILADELPHIA,2000-2001
Bellissime MANHATTAN, Salvatore Vergone, AUG 2001, NYC Manhattan
<!#################################################################################################################> <!############################################## SIDEBAR TABLE ####################################################> <!#################################################################################################################> <!#################################################################################################################>